Torek, 18. 10. 2011
Goc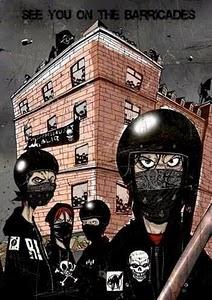 Nocoj bomo začeli poslušati 2CD "Anarchist Against the Wall" na kateri so tudi
Power is Poison
,
Vals
,
Mitan
in
Smartut Kahol Lavan
. Novi ep imajo
Warvictims
, prvi album pa
Grito!
, poulični punk iz Porta. Sledita dva splita
Besthöven
in
Kontatto
oz.
ANXTV
in
Vivere Merda
. Proti koncu anarcho punk iz Kanade,
The Dead Peasants Revolt
in
Patareni
. Gigz:
Stage Bottles
,
G.U.B.
,
Psihoza
in
Krlja
S U B W A Y 7 7 4 / 1 0 6 9 torek, 18/10.2011. ob 22,30-ih
V/A "Anarchist Against the Wall" 2CD
POWER IS POISON - Deported
VALS – Midden Osten
SMARTUT KAHOL LAVAN – Cruel Categorization
MITAN – Mitan
WARVICTIMS - "Thrashpunk Terror Rampage" 7"EP
– Wallow in Suffering
- Var Blodbestankta historia
– Doda Ogon
GRITO! - "Sinfonias Contemporâneas de Casa de Banho" CD
- Macacos no Poder
- Rudes, Feios e Maus
– Cerveja
- Sinfonias Contemporâneas de Casa de Banho
BESTHOVEN -"Fucking Crusties" split w/Kontatto
– The Night Of Hell
– Sirens Ringing
KONTATTO
– Consuma E Sparisci
– La Morte Degli Innocenti
VIVERE MERDA - split w/. ANXTV
– Emarginato
– Mai
– G8
ANXTV
– Diritto D'Illusione
– Nel Vostro Grigio Eterno
The DEAD PEASANTS REVOLT - "Resistance is Fertile" CD
– We Are the Anti-Fa!
– D.I.Y. or Die
– Tear Down The Fence
– This is Our Movement
STAGE BOTTLES - "Power for Revenge" CD
- Bring Back the Red Bricks
G.U.B. - "Nikad pankera od nas" CD
- Das Leben Ist So Schön
PSIHOZA - Demo
- Aghata
PATARENI - "Never Healed" CD
– Ulaz u sistem govnarske zajebnice
KRLJA - "Grind World Order"
– This World

Contact: apatridi@hotmail.com

Od koncertov:

(sreda) 19.10. Ljubljana, Menza: Stage Bottles, G.U.B.;

(četrtek) 20.10. Ljubljana, Gala Hala: Radiostorm, Živi zid, Streched Holiday, Within The Tides, Killa Manilla...

(sobota) 22.10. Ljubljana, Gromka: Krlja, Psihoza;

(sobota) 22.10. MKSMC, Koper: In Other Climes, Broken Trigger, Born to Die;

(sobota) 22.10. Gorica, Pieffe Factory – Warfare, Pizda materna;

(torek) 25.10. Ljubljana, Gromka: Escarres, Pord, Homo homini lupus...
Komentarji
komentiraj >>